Contact angle measurement and determination of surface tension
Contact angle measurement is suitable for characterising the wetting behaviour of solid surfaces by liquids. With this method, the surface free energy and its polar and disperse fractions can be determined.
The contact angle is considered a measure of the wettability of a solid by a liquid. The principle is that the smaller the contact angle between the liquid and the solid surface, the higher the wettability.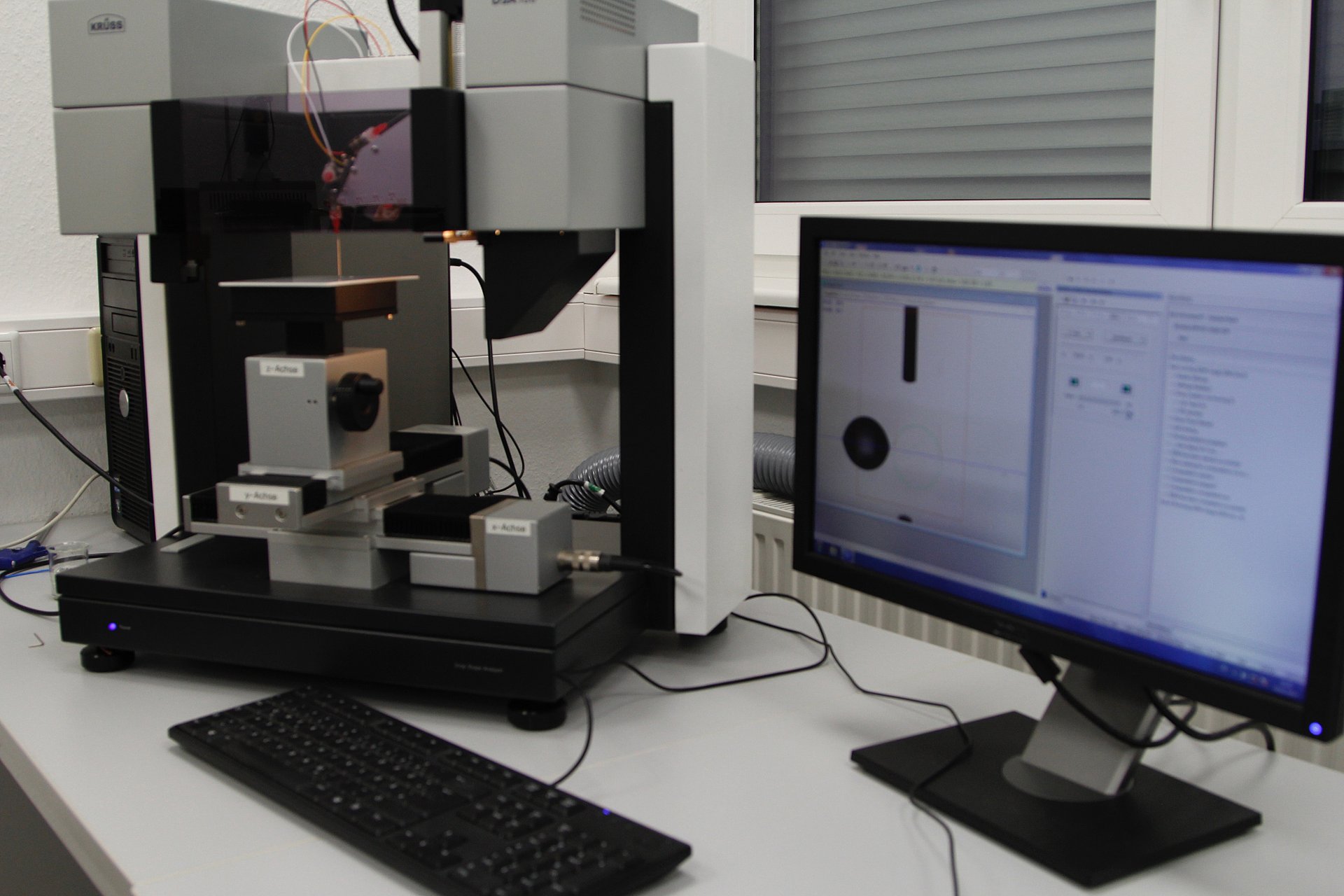 Contact angle measuring device DSA100, KRÜSS GmbH
Measuring principle of the horizontal drop
Determination of the contact angle between a liquid and a solid body
Automatic 3-channel dosing system with motorised xy-table control
Digital image recording and evaluation
Measurement of the surface free energy of solids
Determination of polar and disperse fractions
DIN 13310:
Grenzflächenspannung bei Fluiden – Begriffe, Größen, Formelzeichen, Einheiten
DIN EN ISO 19403:
Beschichtungsstoffe – Benetzbarkeit

Teil 1: Begriffe und allgemeine Grundlagen
Teil 2: Bestimmung der freien Oberflächenenergie fester Oberflächen durch Messung des Kontaktwinkels
Teil 4: Bestimmung des polaren und dispersen Anteils der Oberflächenspannung von Flüssigkeiten aus einer Grenzflächenspannung
Teil 5: Bestimmung des polaren und dispersen Anteils der Oberflächenspannung von Flüssigkeiten aus Kontaktwinkelmessungen auf einem Festkörper mit rein dispersem Anteil der Oberflächenenergie

DIN EN 828:
Klebstoffe – Benetzbarkeit – Bestimmung durch Messung des Kontaktwinkels und der freien Oberflächenenergie fester Oberflächen
ISO 15989:
Kunststoffe – Folien und Bahnen – Messung des Wasser-Benetzungswinkels von koronabehandelten Folien
Surface free energy
polar and disperse fraction of surface energy
wetting behaviour of surfaces