Climate testing of plastics usually involves higher temperatures and the combined influence of temperature and humidity. No external stresses act on the test specimens or components.

In the case of thermal ageing in heating ovens, the temperature is the only influencing factor, whereby the humidity is also controlled during ageing in climate chambers. The possibility of realising different cycles and ramps during ageing is given in both cases. The usual temperature change rates in the temperature range from -70 °C to +190 °C are 2 to 10 K/min.

Please contact us for an individual adjustment of temperature, humidity, ageing time and indicator tests.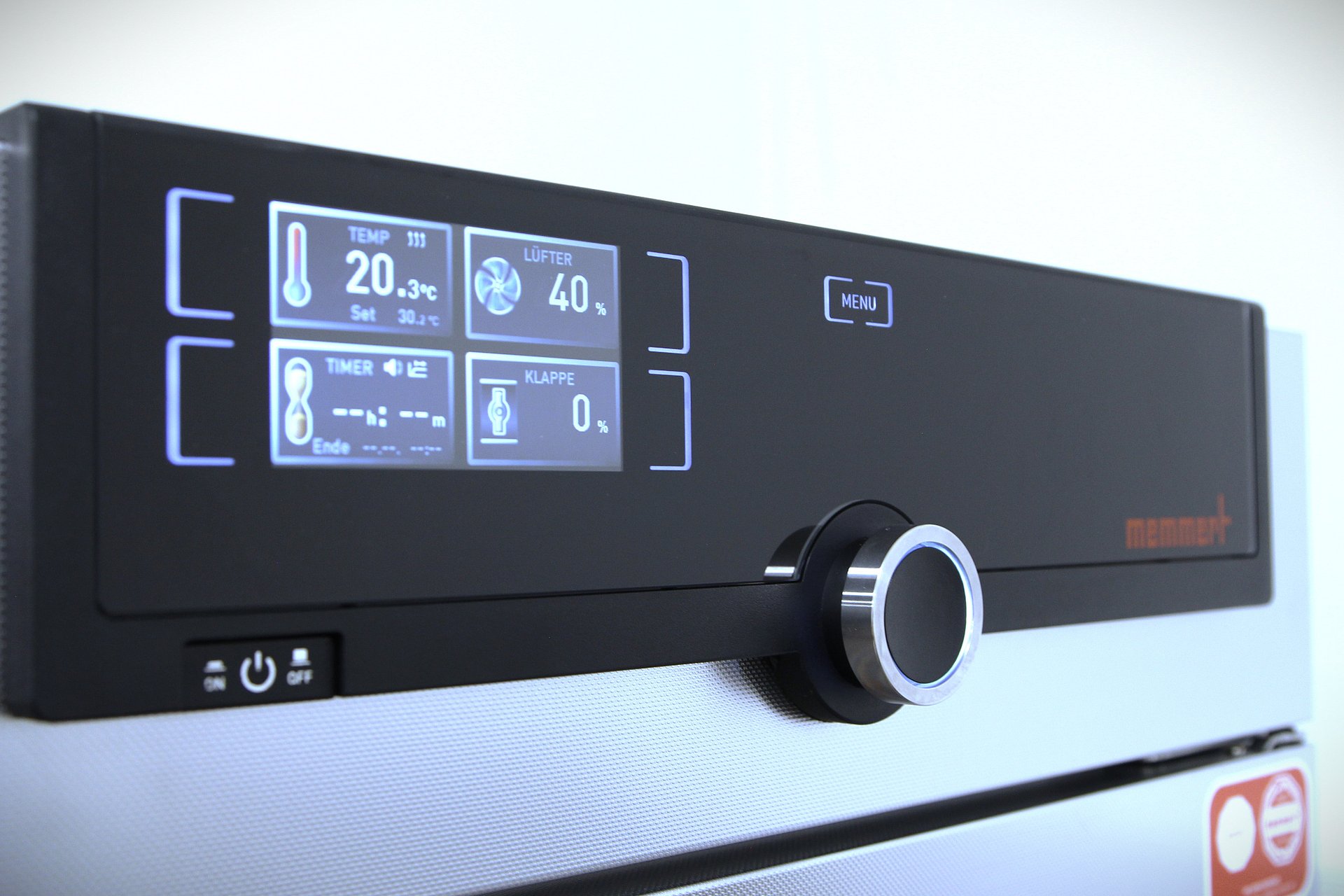 Cutting out test specimens
Fixing the test specimens in the test chamber
Testing of components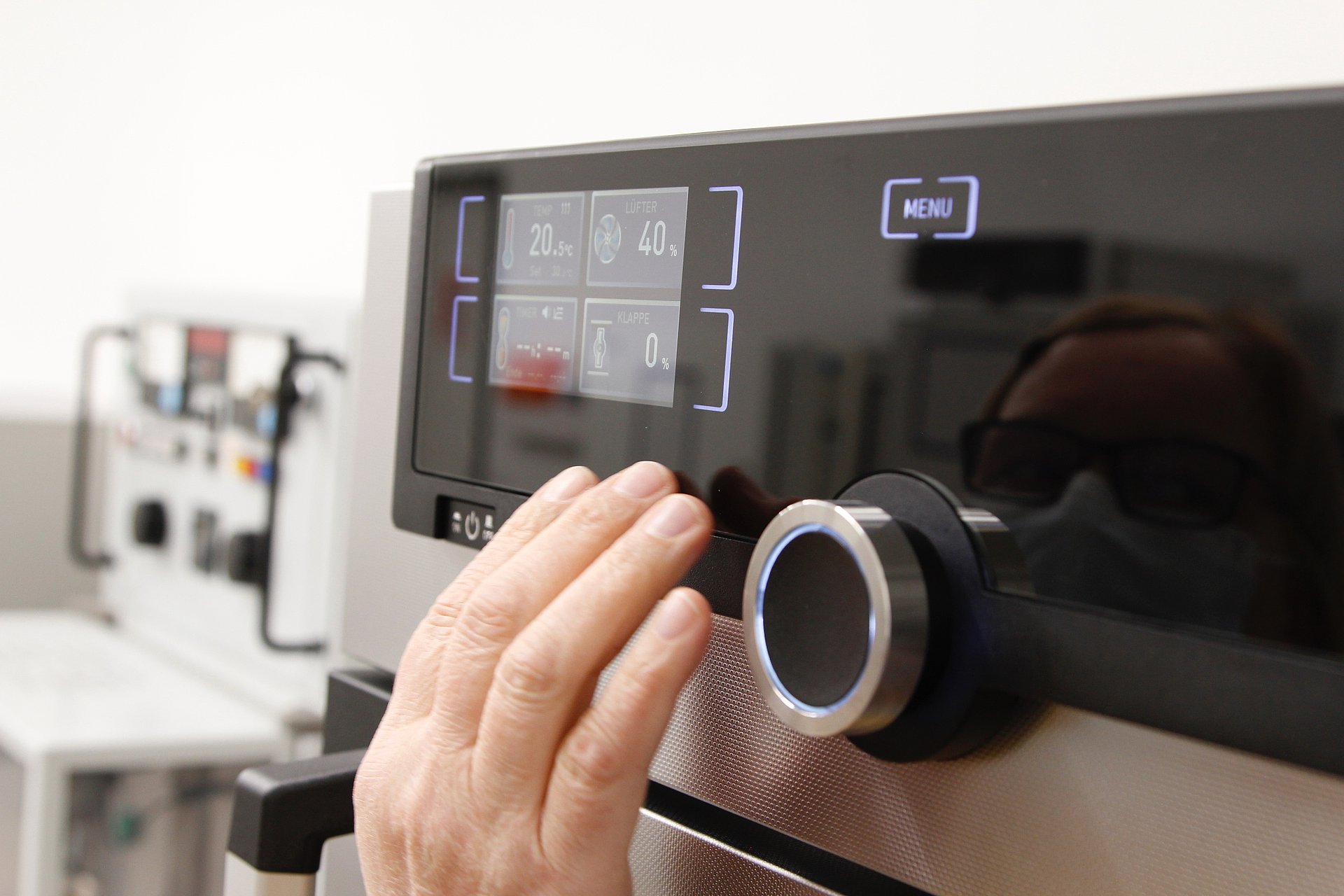 Universal oven Memmert UF55, UF75
Temperatures up to +300 °C
Internal dimensions: 53 l, 74 l
Stainless-steel interior, Dimensions B x H x T:

400 mm x 400 mm x 330 mm (UL55)
400 mm x 560 mm x 330 mm (UL75)

varoius slots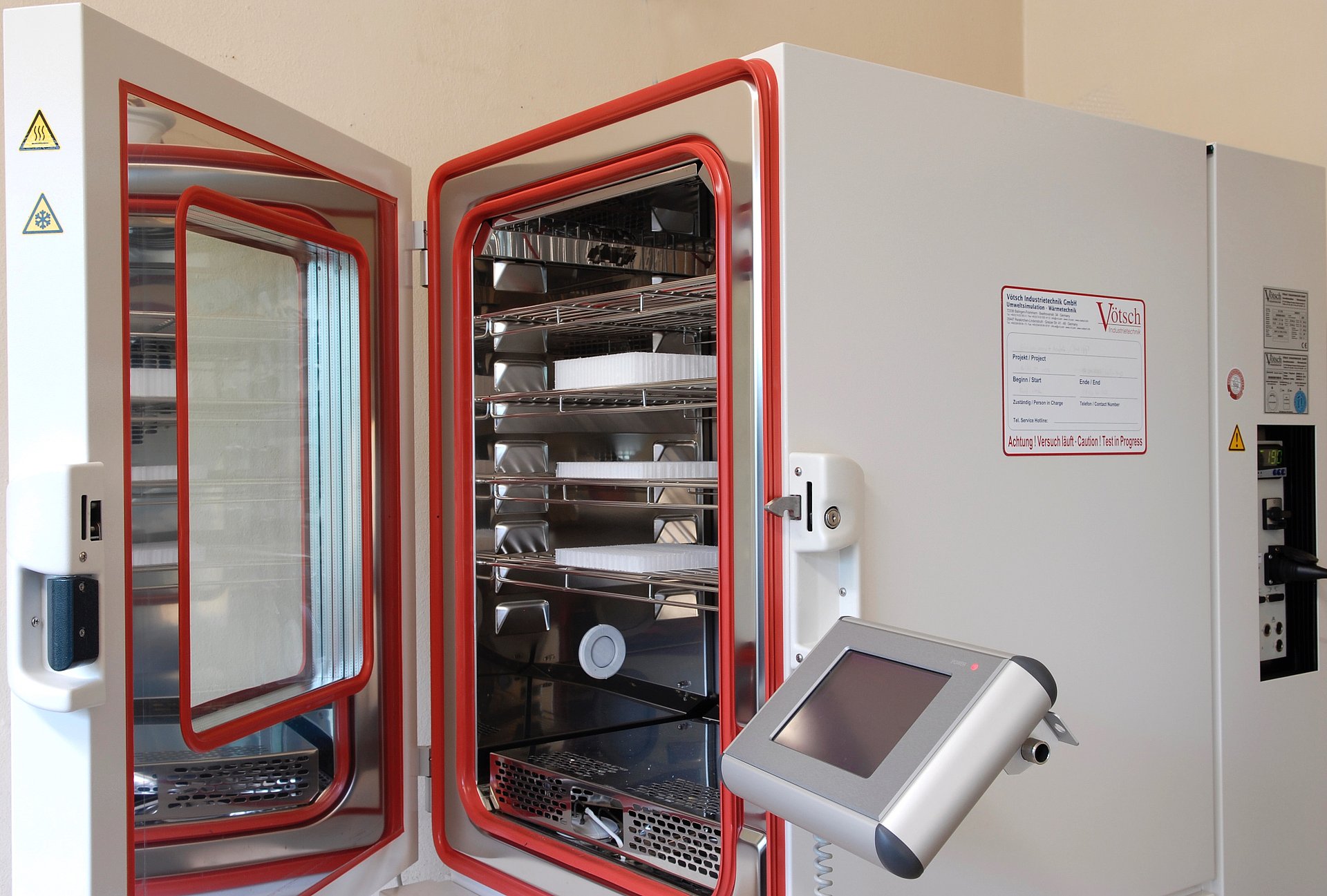 Climate test chambers Vötsch VC7018 and Memmert CTC256
Temperature range from -70 °C to +180 °C
Temperature range from -42 °C to +190 °C
Humidity range from 10 % to 98 % adjustable
Temperature and humidity separately programmable
Realisation of cycles
Test chamber volume 190 l and 256 l
Electronic recording of temperature and humidity
Kälteprüfung
DIN EN 60068-2-1, VDE 0468-2-1
Umgebungseinflüsse – Teil 2-1: Prüfverfahren – Prüfung A: Kälte
ISO 16750-4, Low-temperature tests
Elektrische und elektronische Kraftfahrzeugausrüstung – Umgebungsbedingungen – Teil 4: Klimatische Beanspruchungen
Wärmeprüfung
DIN EN 60068-2-2, VDE 0468-2-2
Umgebungseinflüsse – Teil 2-2: Prüfverfahren – Prüfung B: Trockene Wärme
ISO 16750-4, High-temperature test
Elektrische und elektronische Kraftfahrzeugausrüstung – Umgebungsbedingungen – Teil 4: Klimatische Beanspruchungen
Wechseltemperatur
DIN EN 60068-2-14, VDE 0468-2-14
Umgebungseinflüsse – Teil 2-14: Prüfverfahren – Prüfung N: Temperaturwechsel
ISO 16750-4, Temperature steps und Temperature cycling
Elektrische und elektronische Kraftfahrzeugausrüstung – Umgebungsbedingungen – Teil 4: Klimatische Beanspruchungen
Konstantklima
DIN EN 60068-2-67, VDE 0468-2-67
Umgebungseinflüsse – Teil 2-67: Prüfverfahren – Prüfung Cy: Feuchte Wärme, konstant, beschleunigte Prüfung, vorzugsweise für Bauelemente
DIN EN 60068-2-78, VDE 0468-2-78
Umgebungseinflüsse – Teil 2-78: Prüfverfahren – Prüfung Cab: Feuchte Wärme, konstant
ISO 16750-4, Damp heat steady
Elektrische und elektronische Kraftfahrzeugausrüstung – Umgebungsbedingungen – Teil 4: Klimatische Beanspruchungen
Wechselklimate
DIN EN 60068-2-30, IEC 60068-2-30
Umgebungseinflüsse – Teil 2-30: Prüfverfahren – Prüfung Db: Feuchte Wärme, zyklisch (12 + 12 Stunden)
DIN EN 60068-2-38, IEC 60068-2-38
Umgebungseinflüsse – Teil 2-38: Prüfverfahren – Prüfung Z/AD: Zusammengesetzte Prüfung, Temperatur/Feuchte, zyklisch
ISO 16750-4, Damp heat cyclic und Temp/Humid cyclic
Elektrische und elektronische Kraftfahrzeugausrüstung – Umgebungsbedingungen – Teil 4: Klimatische Beanspruchungen
Weitere Normen
DIN 53497
Prüfung von Kunststoffen – Warmlagerungsversuche an Formteilen aus thermoplastischen Formmassen, ohne äußere mechanische Beanspruchung
DIN EN ISO 62
Kunststoffe – Bestimmung der Wasseraufnahme
DIN EN ISO 1110
Kunststoffe – Polyamide – Beschleunigte Konditionierung von Probekörpern
DIN EN ISO 2440
Weich- und Hartschaumstoffe – Schnellalterungsprüfung
Werksnormen
Hyundai Motor Group, Spec No. ES82130-01
verschiedene weitere Vorschriften von Prüfbedingungen realisierbar