Colour fastness test - Visual comparison of colours
Benefit from our many years of experience in the visual assessment of colour change by our trained, competent testers with appropriate colour vision.
The colour fastness test is carried out to visually assess the change in colour under defined test conditions. For this purpose, a standardised grey scale is used, which is characterised by precise colourimetric specifications of the differences in brightness of the grey levels. In particular, the optical appearance changed by ageing as a result of laboratory weathering, heat or climatic exposure can be evaluated with the help of the colour fastness test.
The colour fastness test determines a characteristic value that allows an interpretation. The two international standards in the field of colour fastness testing with grey scale are ISO 105-A02 and ISO 105-A03.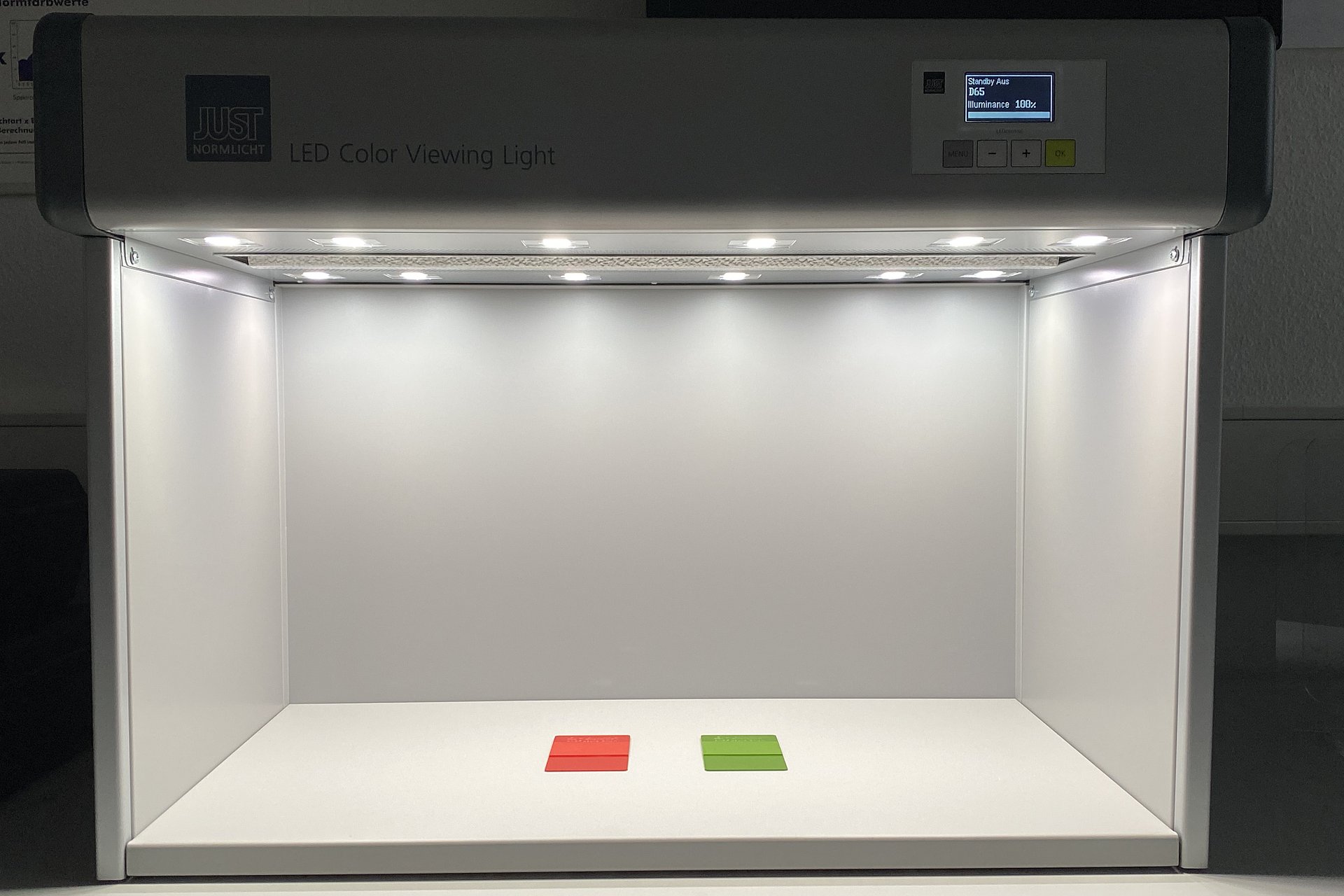 The visual comparison is used to evaluate the colour fastness of two samples against each other. The samples are reproducibly positioned and irradiated with a light source with standard illuminant D65 (direct sunlight under a blue sky at noon) and then evaluated with the grey scale.
The basis of the grey scale are different pairs of grey, matt colour plates, which represent defined colour distances and to which the fastness grades 5, 4, 3, 2 and 1 are assigned. In the case of the nine-step grey scale, half-step evaluations 4-5, 3-4, 2-3 and 1-2 are also possible. The principle is such that of a pair one section is always neutral grey with the assigned fastness number 5 and the other section has gradations towards the fastness number 1. The difference in contrast between the two sections is used for evaluation.
The comparison between two samples is made in relation to the difference to the grey scale and the fastness number is given in the result. In the standards ISO 20105-A02 as well as ISO 105-A03, specifications are made regarding the description of the type of change in colour.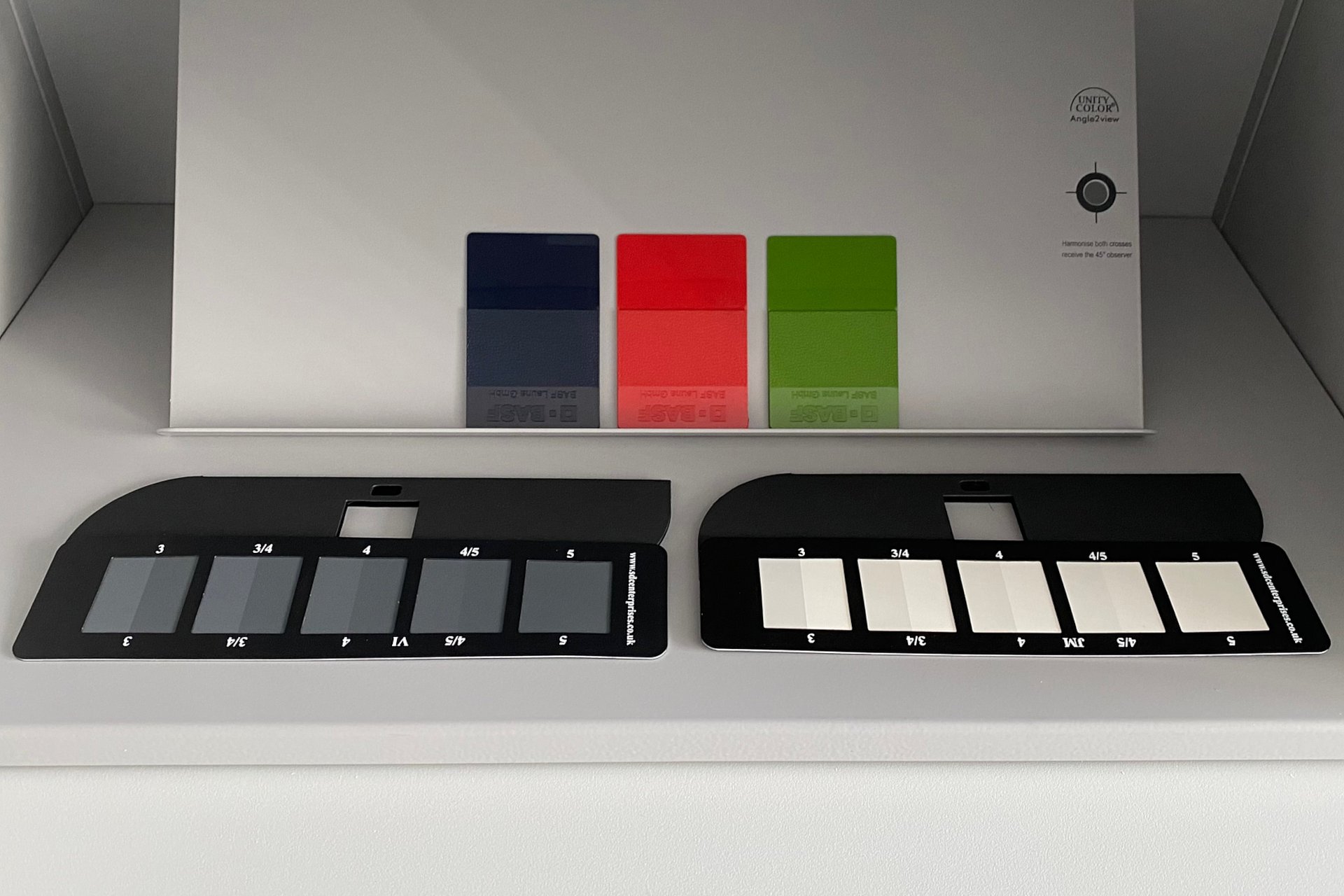 Light booth LED Color Viewing Light M 2.0 Hybrid (JUST Normlicht GmbH)
multispectral LED light source
lluminants:
any iluminants can be realised with LED light source
Colour rendering index Ra or CRI greater than 95, colour deviation ≤ 0.002, no chromaticity shift during dimming
High illuminance (2000 lux) due to special Fresnel discs, best homogeneity of illumination
45° sample stand for colour matching
9-step grey scale according to ISO 105-A02 for evaluation of colour change
9-step grey scale according to ISO 105-A03 for evaluation of staining
Akkredtierte Norm
DIN EN 20105:
Textilien – Farbechtheitsprüfungen

Teil A02: Graumaßstab zur Bewertung der Änderung der Farbe

DIN EN ISO 105:
Textilien – Farbechtheitsprüfungen

Teil A01: Allgemeine Grundlagen
Teil A03: Graumaßstab für die Bewertung des Anblutens
Weitere Normen
ASTM D1729:
Standard Practice for Visual Appraisal of Colors and Color Differences of Diffusely-Illuminated Opaque Materials
DIN EN ISO 3668:
Beschichtungsstoffe - Visueller Vergleich der Farbe von Beschichtungen
ISO 3664:
Betrachtungsbedingungen für die graphische Technologie und die Fotografie