Heat distortion temperature – HDT and Vicat
With our brand new Amsler HDT/Vicat Allround 6-300 from Zwick/Roell, we can quickly and reliably characterise the heat deflection temperature of plastics for you in our accredited testing laboratory.

We use a high-temperature-stable silicone oil so that we can determine Vicat softening temperatures (VST) and heat deflection temperatures (HDT) up to a temperature of 300°C in accordance with the standards.

Contact us, our motivated team will be happy to advise you!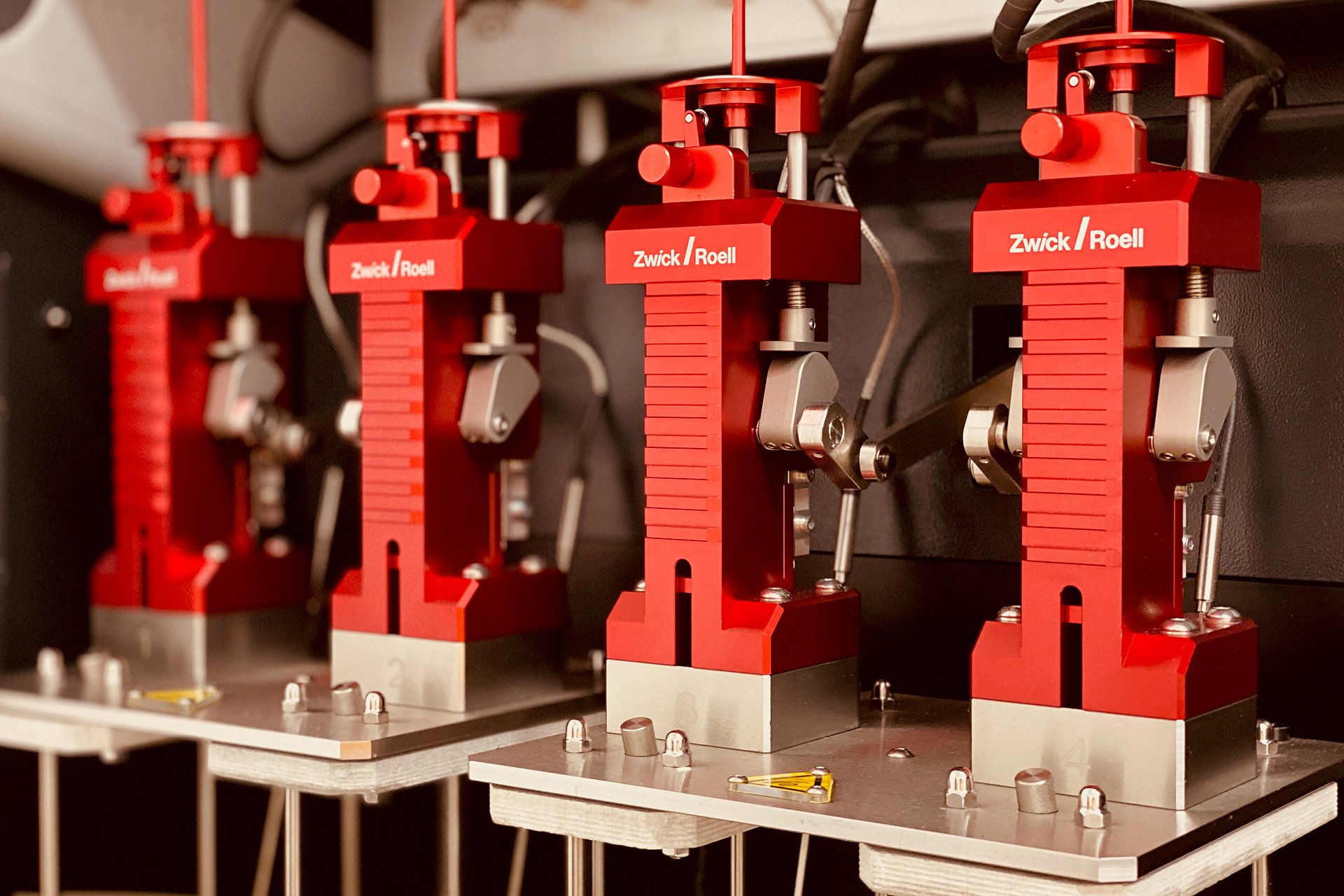 Due to their comparatively low temperature resistance, plastics are limited in their use at higher temperatures. It is therefore all the more important to know the temperature range under which a plastic component can be used under certain operating conditions and stresses.

During the test, the measured displacement and temperature are continuously plotted as a function of the test time, so that the indentation or deflection behaviour can be followed throughout the experiment.

Methodologically, the determination of the heat deflection temperature and the Vicat softening temperature leads to different results.
To determine the heat deflection temperature HDT, the test specimens are subjected to a constant flexural stress in a three-point flexural arrangement and heated in an oil bath until a defined edge fibre elongation is reached. The temperature at which the defined edge fibre elongation is reached is given as the heat deflection temperature HDT.

Depending on the material and the intended use of the plastic, three different bending stresses are realised - 1.8 MPa (HDT A), 0.45 MPa (HDT B) and 8 MPa (HDT C).
The Vicat softening temperature is reached when a flat needle with a diameter of 1 mm² penetrates one millimetre deep into a plane-parallel test specimen. A force of 10 N or 50 N is applied to the needle while the oil bath is heated at a rate of 50 K/h or 120 K/h respectively.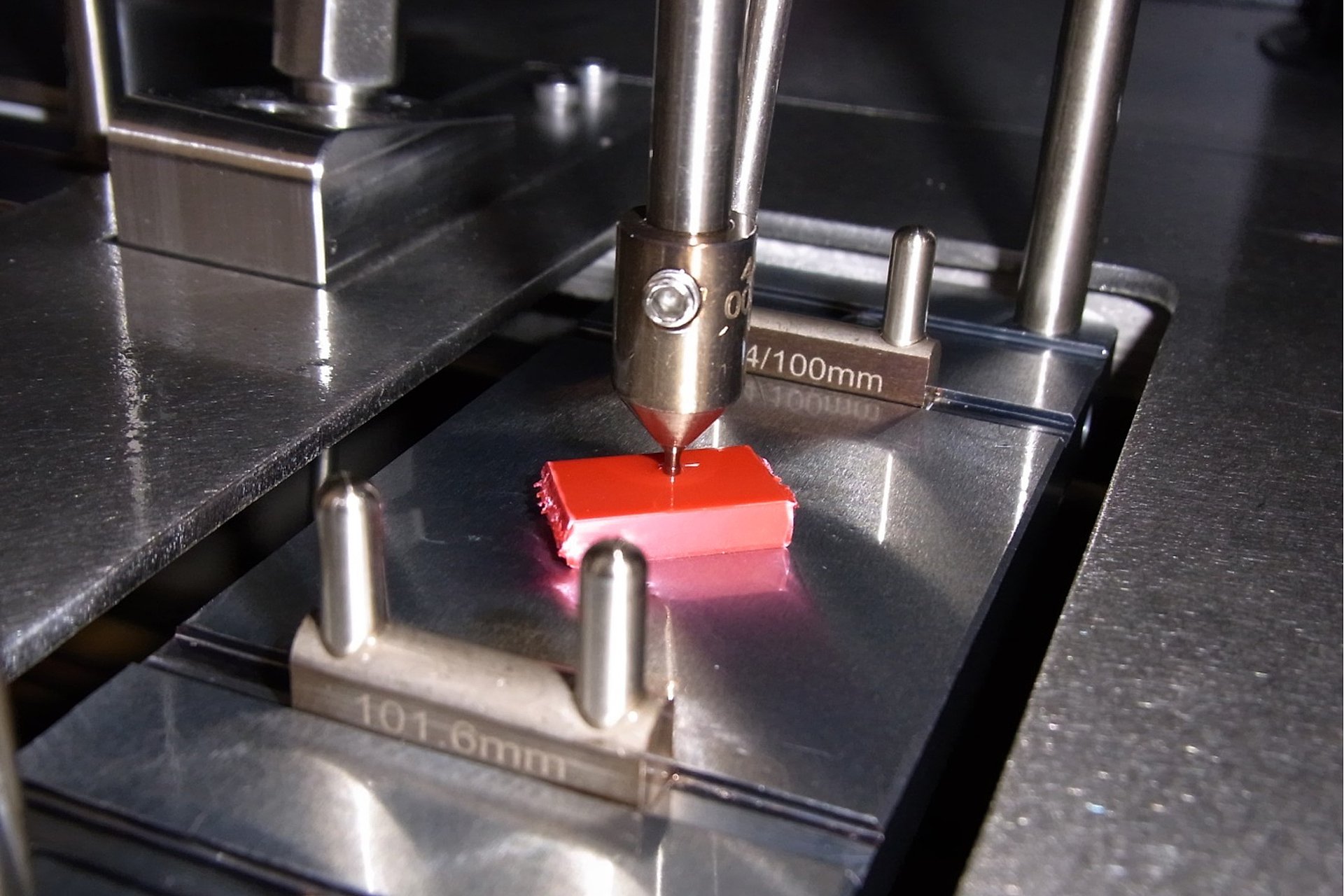 Amsler HDT/Vicat Allround tester (Zwick/Roell, Ulm)
automatically controlled test procedure
3 measuring stations
Testing in the temperature range from room temperature to 300 °C
Heating in a silicone oil bath
different weight sets
3 support distances: 64 mm, 100 mm, 101.6 mm
Removal of specimens from:

Multi purpose specimens
Sheets
Components

Specimen dimensions:

for HDT preferred 80 mm x 10 mm x 4 mm (L x W x H)
for Vicat preferred 10 mm x 10 mm x 3-6.5 mm (L x W x H) or 10 mm diameter

plane-parallel surfaces, burr-free
Stacking of specimens, if necessary (maximum three pieces)
Procedure A, B and C for the determination of HDT
Methods A50, A120, B50 and B120 for the determination of the VICAT softening temperature

Load 10 N and 50 N
Heating rate 50 K/h and 120 K/h
Akkreditierte Normen
DIN EN ISO 75:
Kunststoffe – Bestimmung der Wärmeformbeständigkeitstemperatur

Teil 1: Allgemeines Prüfverfahren
Teil 2: Kunststoffe und Hartgummi
Teil 3: Hochbeständige härtbare Schichtstoffe und langfaserverstärkte Kunststoffe

DIN EN ISO 306:
Kunststoffe – Thermoplaste – Bestimmung der Vicat-Erweichungstemperatur VST
Weitere Normen
ASTM D 1525:
Standard Test Method for Vicat Softening Temperature of Plastics
ASTM D 648:
Standard Test Method for Deflection Temperature of Plastics under Flexural Load in the edgewise Position