Pure tensile loads occur rather rarely in practice. More frequently, components are subjected to combined loads. Accordingly, the bending test is very important for characterising the bending load.

Our testing laboratory MPK is accredited to carry out bending tests according to various standards (see list below).

Characteristic values can be determined for stiff samples, e.g. made of thermoplastics, duromers, laminates or fibre composites in three-point bending tests or four-point bending tests. Temperature-controlled measurements are also possible.

For measurements on small samples, we can perform the Dynstat bending test according to DIN 53435:2018.

If required, we can also age the samples (see section environmental simulation).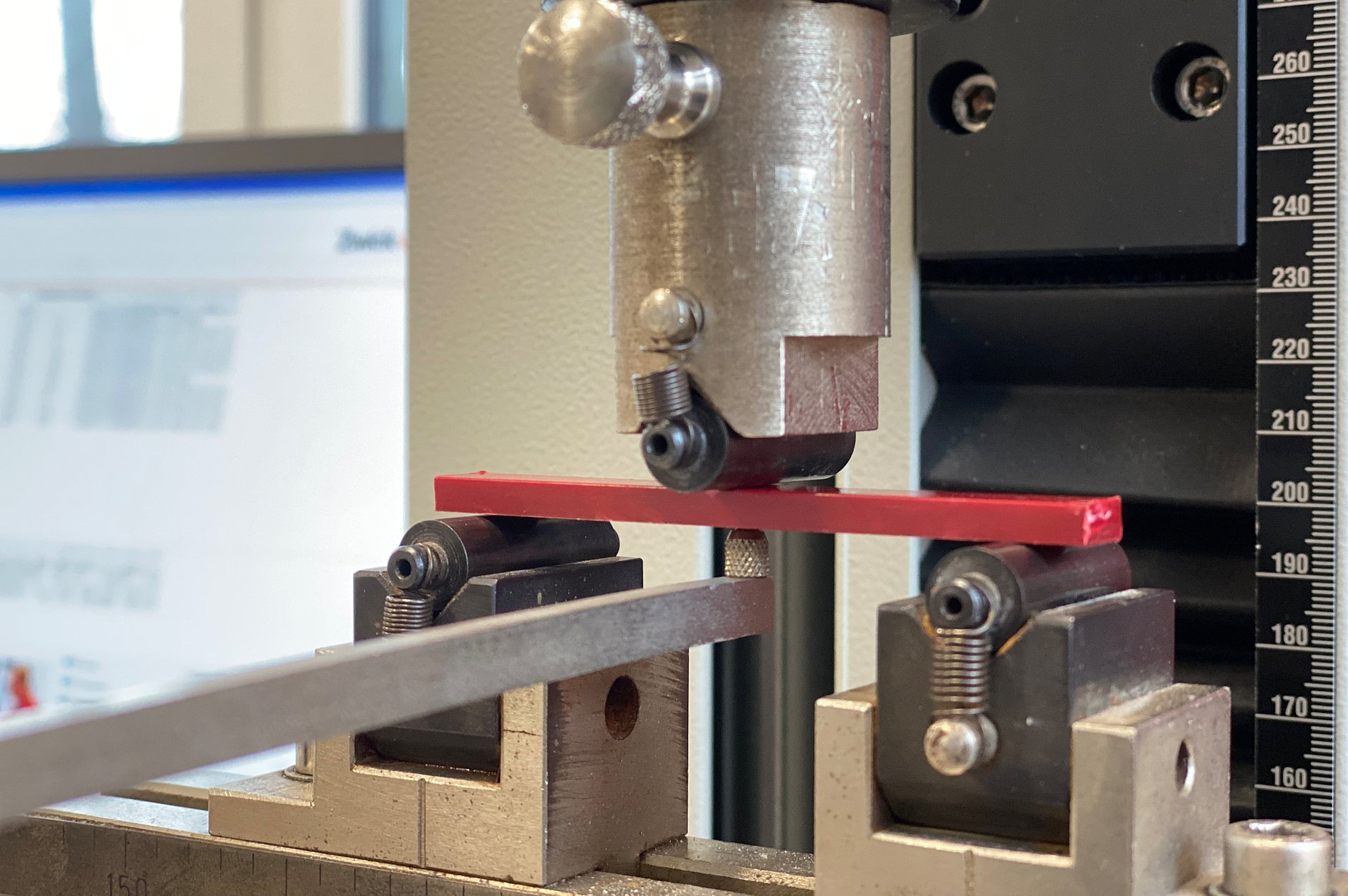 Test speed up to 1250 mm/min
Temperature regime for 3-point bending test and 4-point bending test from -50 °C to 250 °C
Standard climate (23 °C, 50 % humidity)
Forces from 5 N to 50 kN
Support width up to 250 mm
Radius of bending die and supports 1 mm
Testing of stiff specimens, including thermoplastics, duromers, laminates and fibre composites
Testing of specimens with different specimen geometries (the specimen geometry depends on the specimen thickness and the material class (I-IV))
Akkreditiere Normen:
DIN EN 2562: Luft- und Raumfahrt: Kohlenstofffaserverstärkte Kunststoffe – Unidirektionale Laminate; Biegeprüfung parallel zur Faserrichtung
DIN EN ISO 178: Kunststoffe – Bestimmung der Biegeeigenschaften
DIN EN ISO 14125: Faserverstärkte Kunststoffe – Bestimmung der Biegeeigenschaften
DIN 53435: Prüfung von Kunststoffen – Biegeversuch und Schlagbiegeversuch an Dynstat-Probekörpern
weitere Normen:
ASTM D 790: Standard Test Methods for Flexural Properties of Unreinforced and Reinforced Plastics and Electrical Insulation Materials
ISO 1209-1: Harte Schaumstoffe – Biegeprüfungen – Teil 1: Allgemeiner Biegeversuch
ISO 1209-2: Harte Schaumstoffe – Biegeprüfungen – Teil 2: Bestimmung der Biegefestigkeit und des scheinbaren Elastizitätsmoduls bei Biegung
Flexural modulus (Chord modulus) Ef
Flexural strength σfM
Flexural stress at conventional deflection (standard flexural stress) σfc
Flexural stress at break σfB
Deflection at flexural strength εfM
Interlaminar shear modulus G
Flexural stress-strain curve
You would like to test according to another standard? You would like to be tested according to a company standard or standards or test specifications not mentioned here?

Please contact us. We will be happy to check whether we can implement the requirements of your standard with our test equipment and accessories. We will also be happy to advise you on the testing of components or non-standard samples.